Email Tracking Software for Gmail
Have you ever sent an email and just waited, not knowing whether recipients received or took action? Vocus.io is one of the best email tracking software that tells you who, when, where, and how your email was opened. You will receive real-time notifications when someone opens your email or clicks on your links, all in one simple dashboard.
If you want to, you can even get notifications on your phone or Slack whenever a hot lead is active.
Ready? take Vocus.io for a spin
5 seconds to sign up. 30 days to try. Countless hours saved.
Try Vocus.io
Accurate tracking
Emailing a prospect and CCing a colleague? Classical email tracking software fails to identify who among multiple recipients opened your email. Instead, it will say "Someone" opened your email, without details whether that someone is your prospect or your colleague. Vocus.io can distinguish between multiple recipients, and will know exactly who opened it, by name.
Real-time tracking
You will receive an immediate, within a second notification on who opened your email or clicked on a link. This is a great way to know the right time to reach out to your prospects and engage them in a deeper conversation.
Branded URLs
You can personalize the domain name of your unsubscribe, open, and click tracking links. Avoid appearing to your prospects like a mass-mailing robot. Using Branded URLs, you'll be able to specify your own domain name, thereby improving your email deliverability score and get that extra notch of credibility. Learn more.
Metrics and trends
From the dashboard, you can choose between detailed view (Stream) and metrics view (Trends). The trends view, pictured below, will accumulate your outgoing activity and compare it side by side with your team for the past period. Filters allow you to focus on yourself only or specific colleagues.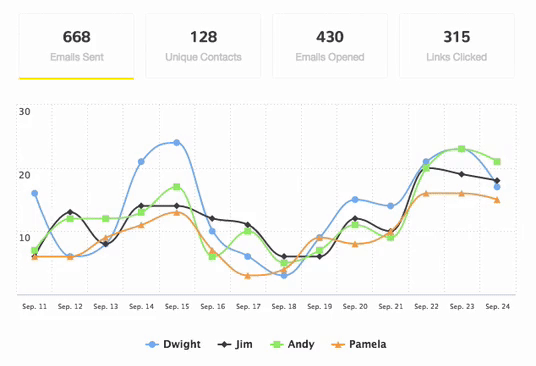 Detailed view
From the Stream view, you can click on any message (sent by you or a colleague) and clearly show how recipients interacted with your email. Clicking on any of those signals will reveal User-Agent and IP details that were recorded by Vocus.io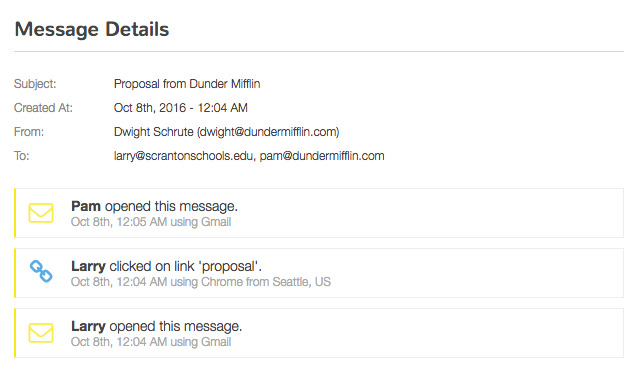 Mobile notifications
For advanced use cases (such as on-the-ground sales teams), Vocus.io supports mobile and Slack notifications via Zapier integrations. This is especially valuable when combined with the Hot Lead flag, which is a way to only trigger mobile notifications for noteworthy lead behavior. For more information, see Using Zapier for Hot Lead Notifications
Ready? take Vocus.io for a spin
5 seconds to sign up. 30 days to try. Countless hours saved.
Try Vocus.io