[Mega Comparison] 10+ Email Tracking Tools: Best Gmail Extensions in 2019
Looking for the best email tracker for you (and perhaps your teammates)? We scoured your options to find the top tools out there to help you make an easy, informed choice.
Let's start with this overview:
Who needs an email tracker anyway?
Any professional banking on their emails to come through.
Sales and business development professionals, marketers, recruiters, and customer support associates benefit the most from an email tracker.
Why? Emails are pivotal to the success of their projects. If you're one of 'em, you might be closing deals via email, generating new opportunities, or hiring for a key position.
Beyond these tasks, your email tracker and productivity tools should work well with your customer relationship management (CRM) tool. Optimize your sales pipeline by being able to organize, nurture, and track leads and customers.
How can you make the most out of an email tracker?
Test what works and what doesn't. Optimize the content of your sales email by A/B testing and tracking the open rates, click rates, and reply rates of your templates.
Strike while the lead is hot. Hit up your prospects when you see them opening your email more than twice. Send a follow-up email while they're already thinking about you.
Gather actionable user insights and data. Leverage data points by understanding the habits of your users. Use data to identify warm leads, the best time to reach out, where your recipients are, and the right contact to follow up with.
The Best Email Tracking Tools in 2018
This is the list of tools that you should consider:
Hubspot Sales
Yesware
ToutApp
Mixmax
Bananatag
Boomerang
Mailtrack
Gmelius
ReplyUp
Salesloft
Outreach
Mailshake
You can add Vocus.io to your Gmail in 30 seconds (or less) with two super easy steps:
Add from Chrome Web Store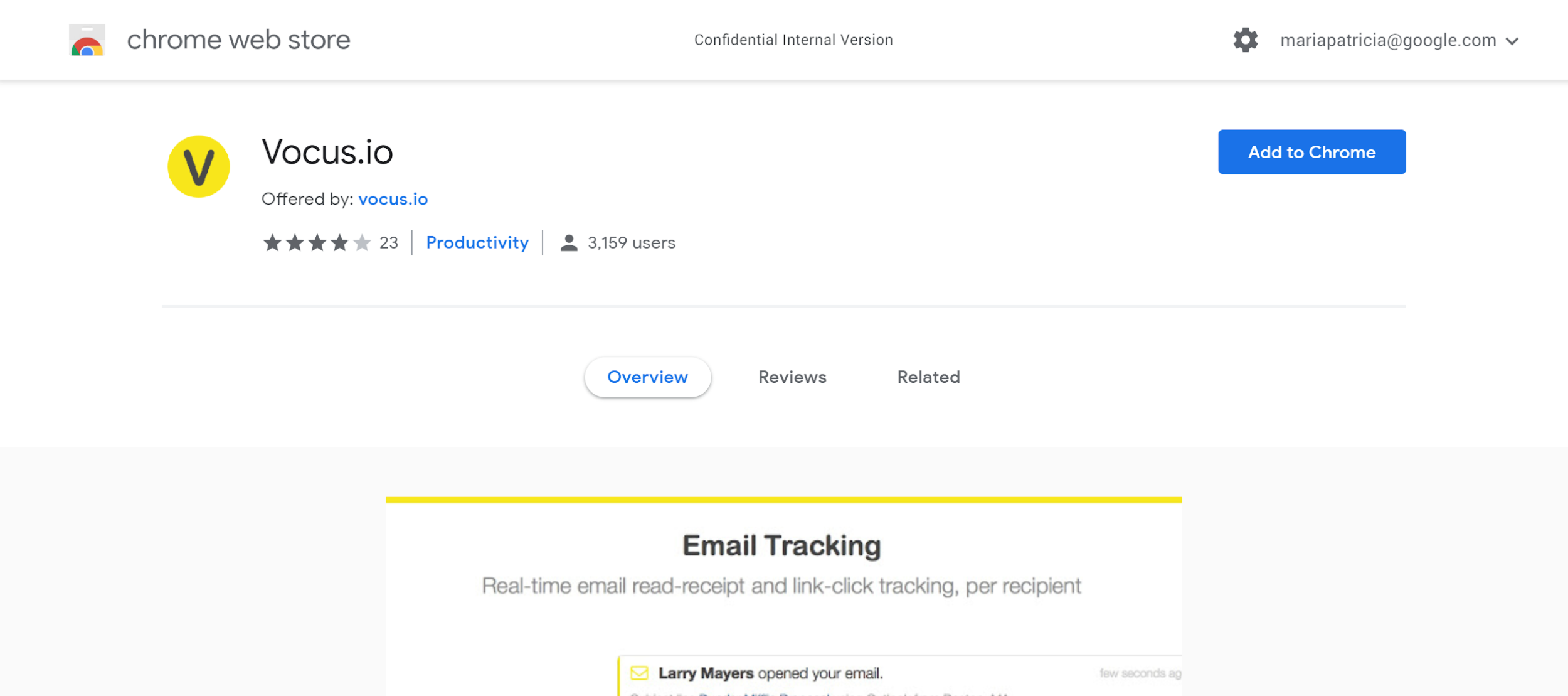 Connect your Gmail account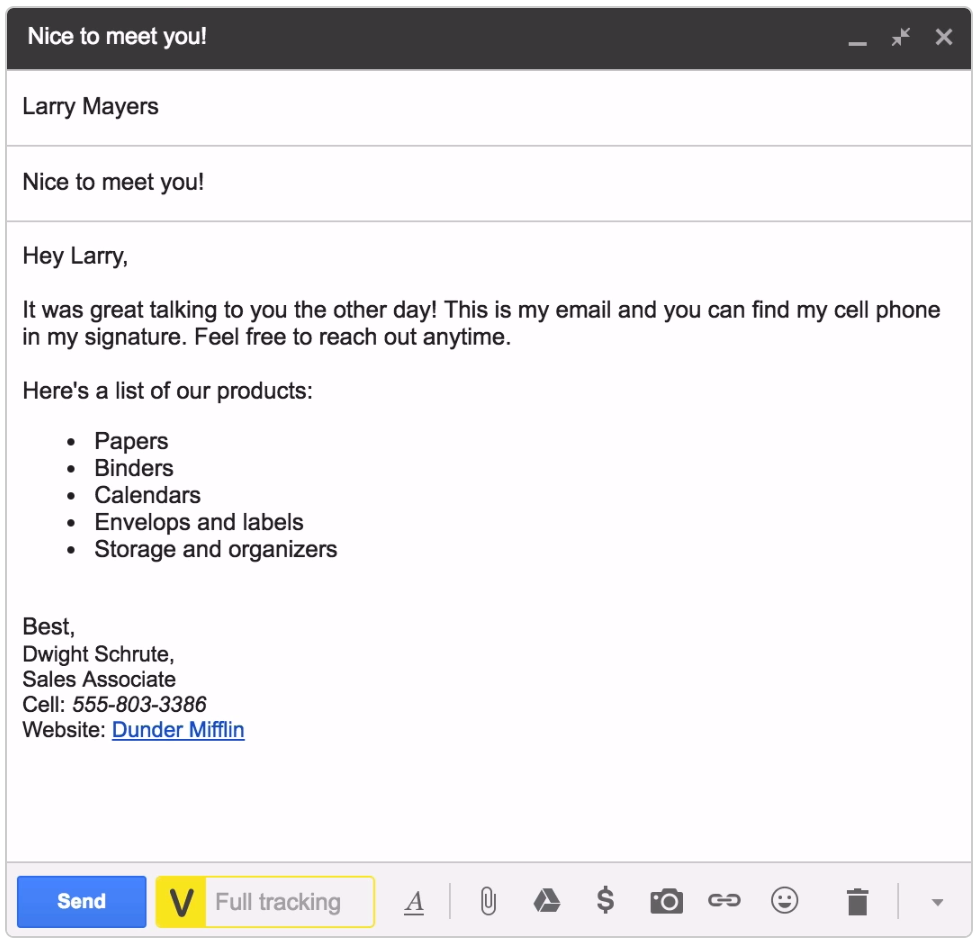 Ta-da! Vocus.io button is seamlessly incorporated to your Gmail.
What you get with Vocus.io's email tracking feature
Accurate tracking - Vocus.io can distinguish between multiple recipients, and will know exactly who opened it, by name. (not just "Someone" opened your email)
Real-time tracking - You will receive an immediate, within a second notification on who opened your email or clicked on a link.
Branded URLs - You can personalize the domain name of your unsubscribe, open, and click tracking links. Using Branded URLs, you'll be able to specify your own domain name, thereby improving your email deliverability score and get that extra notch of credibility.
Metrics and trends - From the dashboard, you can choose between detailed view (Stream) and metrics view (Trends). The trends view, pictured below, will accumulate your outgoing activity and compare it side by side with your team for the past period. Filters allow you to focus on yourself only or specific colleagues.
Detailed view - From the Stream view, you can click on any message (sent by you or a colleague) and clearly show how recipients interacted with your email.
Additional features (you get more than what you bargained for!)
Snippets - Craft effective text nuggets to quickly insert repetitive emails, e.g. intros, thank yous, signatures
Prospecting - Find the email of almost any person in your target organization, just by typing their name.
Follow-ups - Send personalized and automated "gentle reminders" until you get a response.
Mail Merge - Send hundreds of personalized multi-stage emails and get detailed reports on your campaigns.
Coordinating - Share your availability with teammates and decide on a meeting time from a single email
Scheduling - Specify a time for your emails to be sent
Teams - Create multiple teams, centralize billing and share analytics with members.
CRM Integrations - Native Salesforce support in addition to auto-bcc support for other CRMs such as Pipedrive, Hubspot, etc.
Pricing plans
Basic - $5 per user
Unlimited email tracking per recipient
Up to 50 fully customizable and automated followups
Starter - $10 per user
Unlimited email tracking per recipient
Up to 100 fully customizable and automated followups
Single stage mail merge
Professional - $20 per user
Unlimited email tracking per recipient
Up to 500 fully customizable and automated followups
Multi stage mail merge
Want to take it for a spin first? Vocus.io also offers a 30 days free trial, no credit card required.
Customer training and support
Do you have a quick question? Search the knowledge base for FAQs.
Alternatively, you can:
Hubspot Sales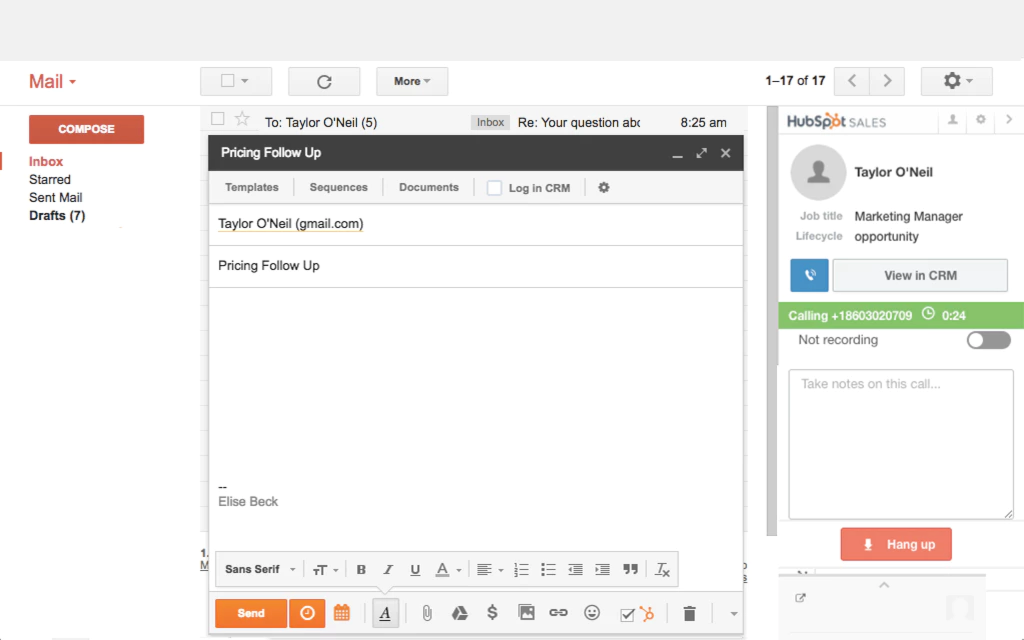 Additional features
On top of Hubspot Sales' email tracker, you'll get email templates, automated followups, CRM integration and automated data entry for repetitive tasks such as lead rotation and task creation.
Pricing plans
Hubspot has a three-tier pricing plan that depends on the user count. Their Starter plan goes for $50 for 1 user, the Professional plan is at $400 for 5 users, and for 10 users, their Enterprise plan can be availed at $1200.
What users think
Pros
Users like the tool for its ease of use and features such as the ability to customize the view. With this, you can easily monitor and manage projects with the CRM program. Having a great technical support is also commended by Hubspot users.
Cons
However, users find the pricing 'prohibitively expensive.' Hence, pricing that's based on the number of emails in your CRM can be limiting for larger scale campaigns. Others have also noted that although the tools come with a bunch of extra features, users find it expendable.
Yesware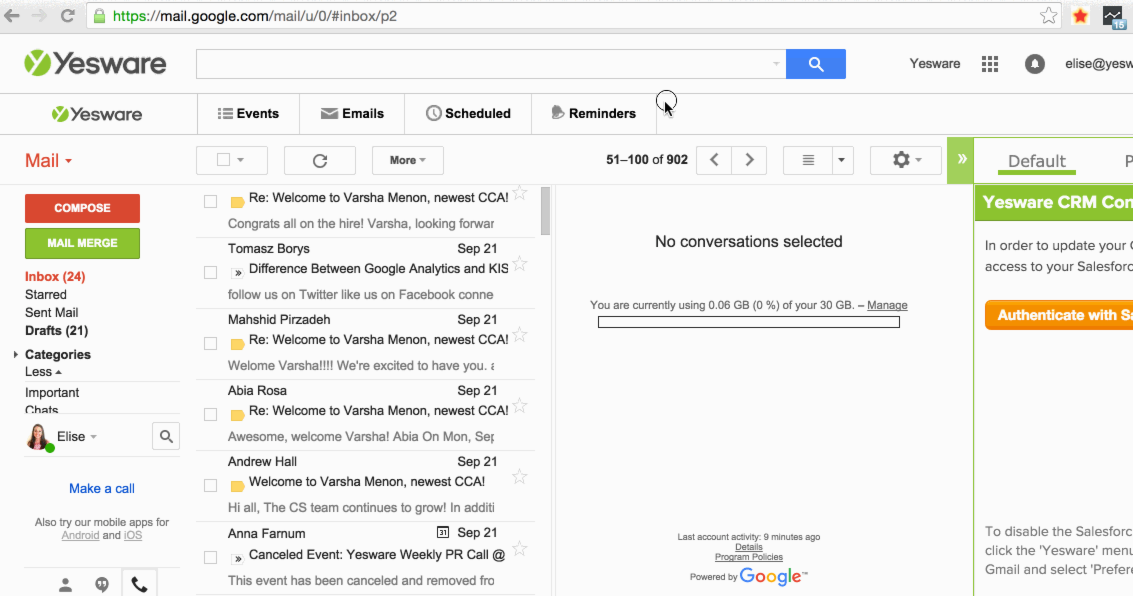 Additional features
With Yesware, you also get extras such as email scheduling, templates, calendar scheduling for synchronizing with the team, and automated follow-ups.
Pricing plans
Yesware has a three-tier pricing plan. Their Pro plan costs $12 per user, their Premium plan is sold at $25 per user, and their top plan, Enterprise, can be availed at $55 per user. Their pricing is billed per month.
What users think
Pros
Customers like using Yesware for its great functionality -- it's quick, simple and easy to use.
Cons
Users find Yesware expensive for what you get. The tool has limited template management functionality, lacks customizability, and do not include other email tracking details such as time, date, and location.
ToutApp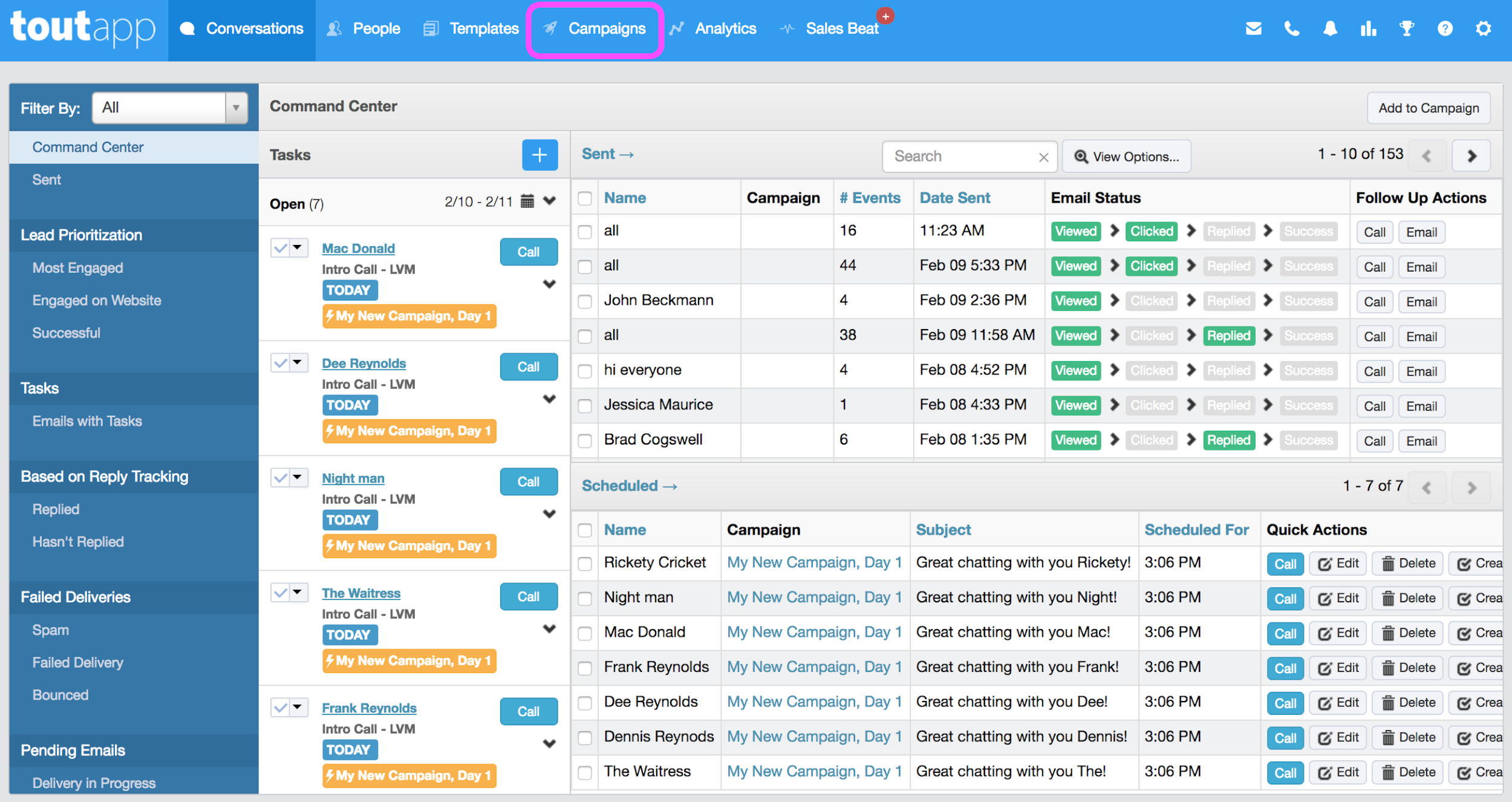 Additional features
ToutApp includes features such as automated campaigns, integrated templates and content, and CRM integration. With the tool, you can also book meetings and arrange calls with your prospects.
Pricing plans
ToutApp plans are $49 per month and $15k annually.
What users think
Pros
Customers prefer ToutApp's highly customizable templates. It has extensive functionality and works great for companies with large database.
Cons
One downside is the tool's customer support. Users find difficulty resolving issues they encounter in the app.
Mixmax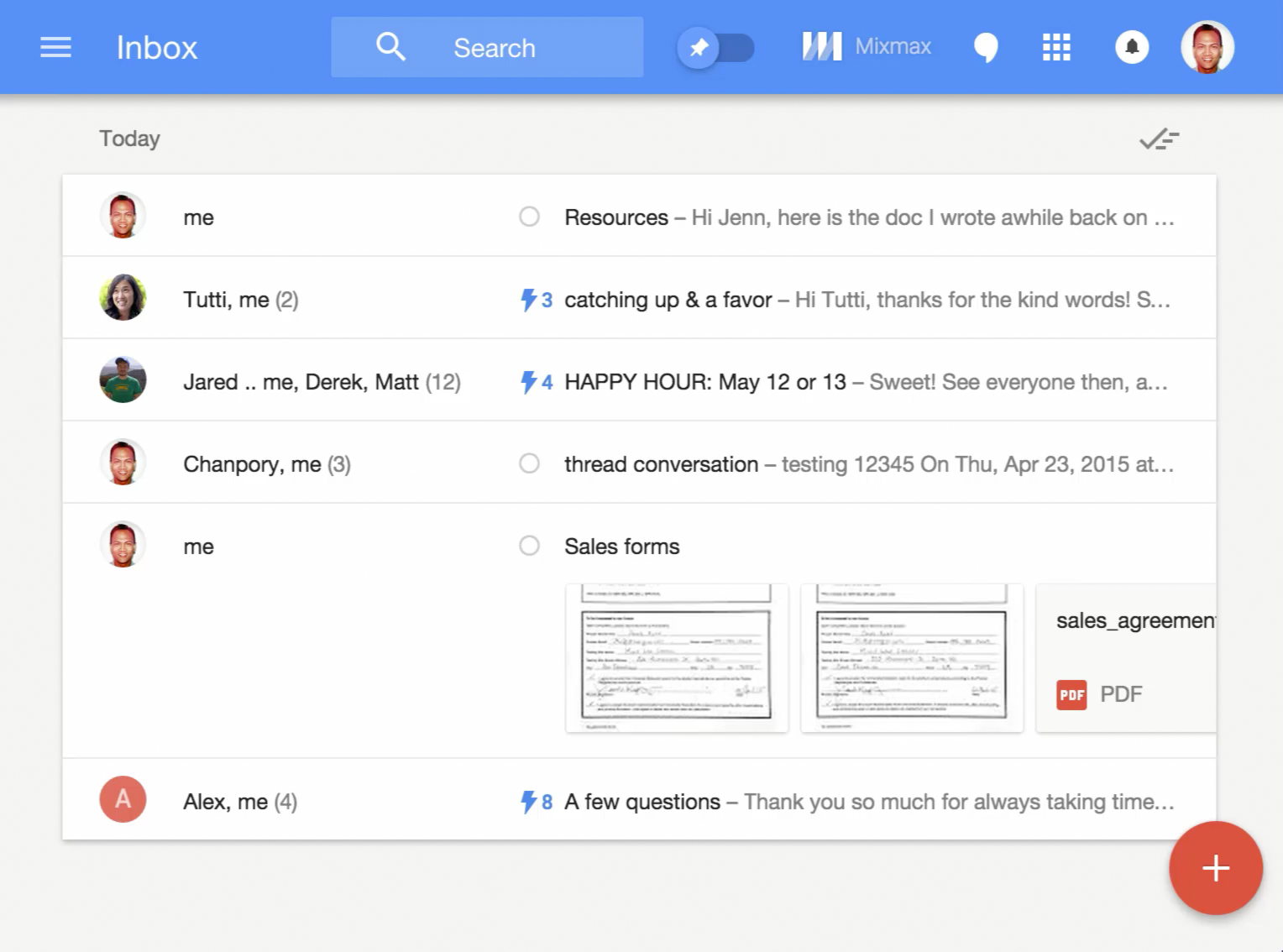 Additional features
Mixmax users can take advantage of the tool's one-click scheduling, email sequences, templates, and incorporating polls & surveys in emails.
Pricing plans
Mixmax has four pricing plans. Starter plan at $9 per user a month, Small Business plan at $24 per user a month, Growth plan at $49 per user a month, and the Enterprise plan which is on quote-based pricing. These plans are billed annually.
What users think
Pros
Customers appreciate Mixmax's intuitive and user-friendly navigation. It's easy to set up and strikes a good balance between being robust and minimalist.
Cons
Mixmax comes at a steep price. It lacks integrations with Zapier or other CRMs. Calendar feature is also branded, which might throw off clients who won't like its less-professional look.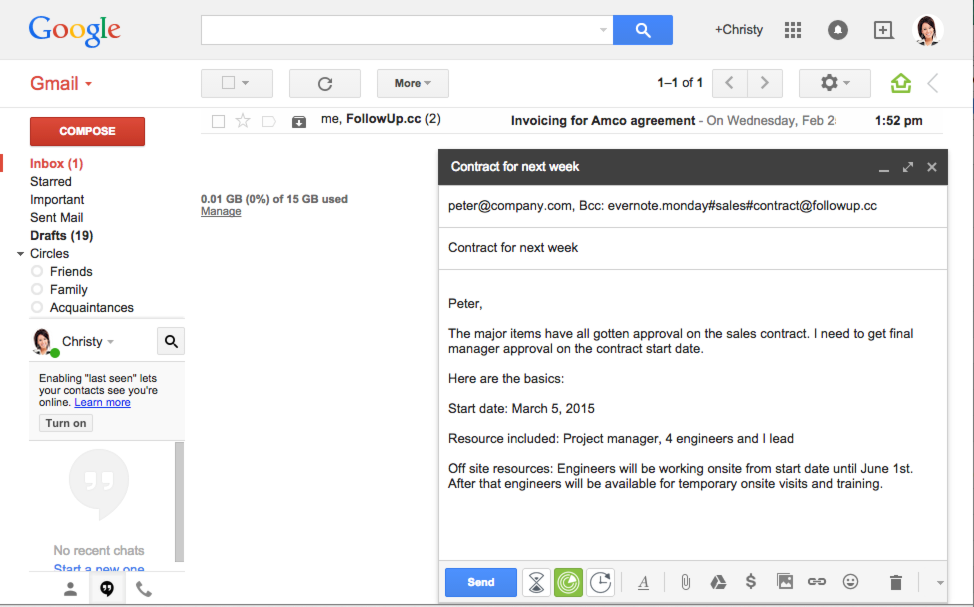 Additional features
FollowUp.cc has additional capabilities such as automated followups, online lookup, contact reminders, email scheduling, and integrations with Zapier, IFTTT, and Evernote.
Pricing plans
FollowUp.cc offers monthly and annual billing for three pricing plans: Starter for $23 per month, Professional for $26 per month, and a Salesforce Edition for $50.
What users think
Pros
Customers find the UX intuitive, leading to their increased productivity. Its capabilties do not only manage your emails but helps you through a more efficient workflow.
Cons
Some users have reported poor customer support and slow response to those who wish to cancel their subscription.
Rebump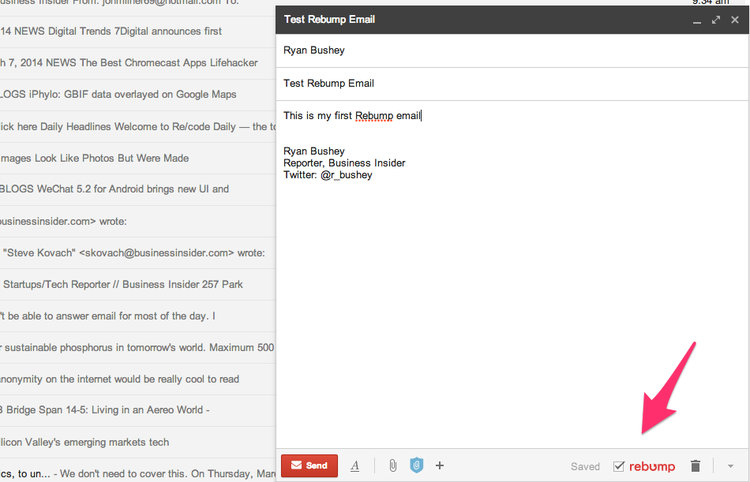 Additional features
Rebump boasts extra features such as automated followups, email scheduling, an email monitoring dashboard and CRM integration.
Pricing plans
Rebump comes in two plans: Unlimited at $5 a month and Unlimited Plus at $12 a month, which comes with the email tracker.
What users think
Pros
The tool is easy to use and comes inexpensive compared to the average pricing of similar apps.
Cons
A call out from customers is the tool does not feature a way to know whether the email has already opened before the second follow-up is sent.
Bananatag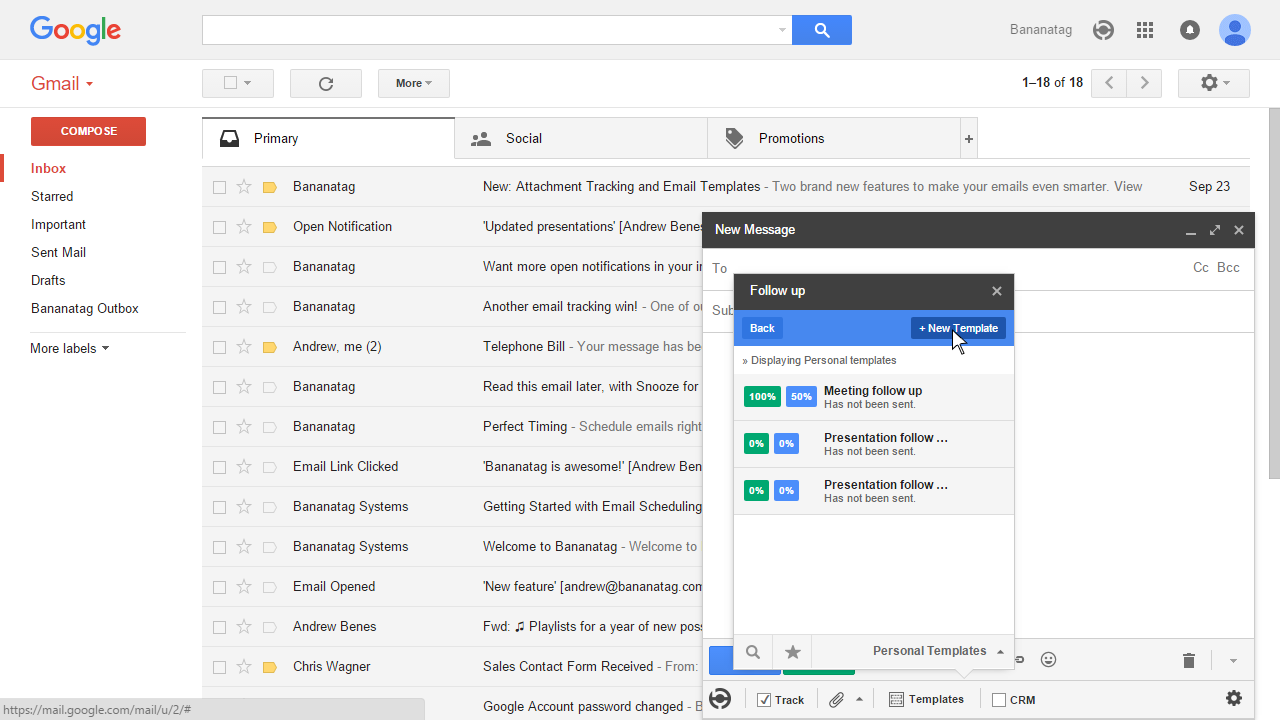 Additional features
Beyond tracking emails, Bananatag also features link tracking, email scheduling, email templates, CRM integrations and analytics.
Pricing plans
Bananatag offers monthly and annual billing. It comes in two plans: Pro at $12.5 a month and $25 a month.
What users think
Pros
Users find it easy to set up and easy to use.
Cons
Email tracking comes with a daily limit. You can only track 5 emails for the free version and 200 emails for the premium version.
Boomerang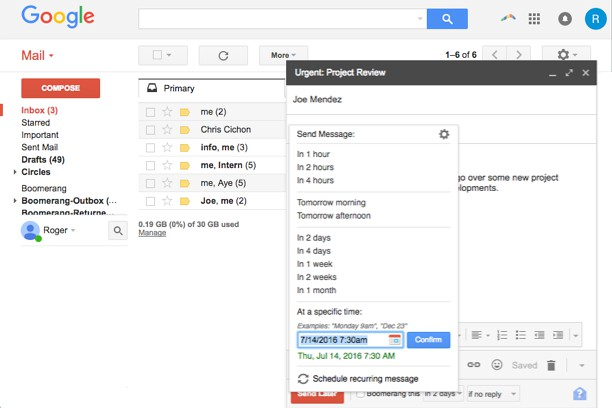 Additional features
With a Boomerang subscription, you also get extra capabilities such as inbox pause, email scheduling, read receipts, automated follow-ups, and email reminders.
Pricing plans
Boomerang has three paid plans: Personal at $4.99 a month, Pro at $14.99 a month and Premium at $49.99 a month.
What users think
Pros
The tool seamlessly integrates with Gmail and is easy to navigate.
Cons
A number of customers have reported cases with main features not working and the builder having a few glitches.
Mailtrack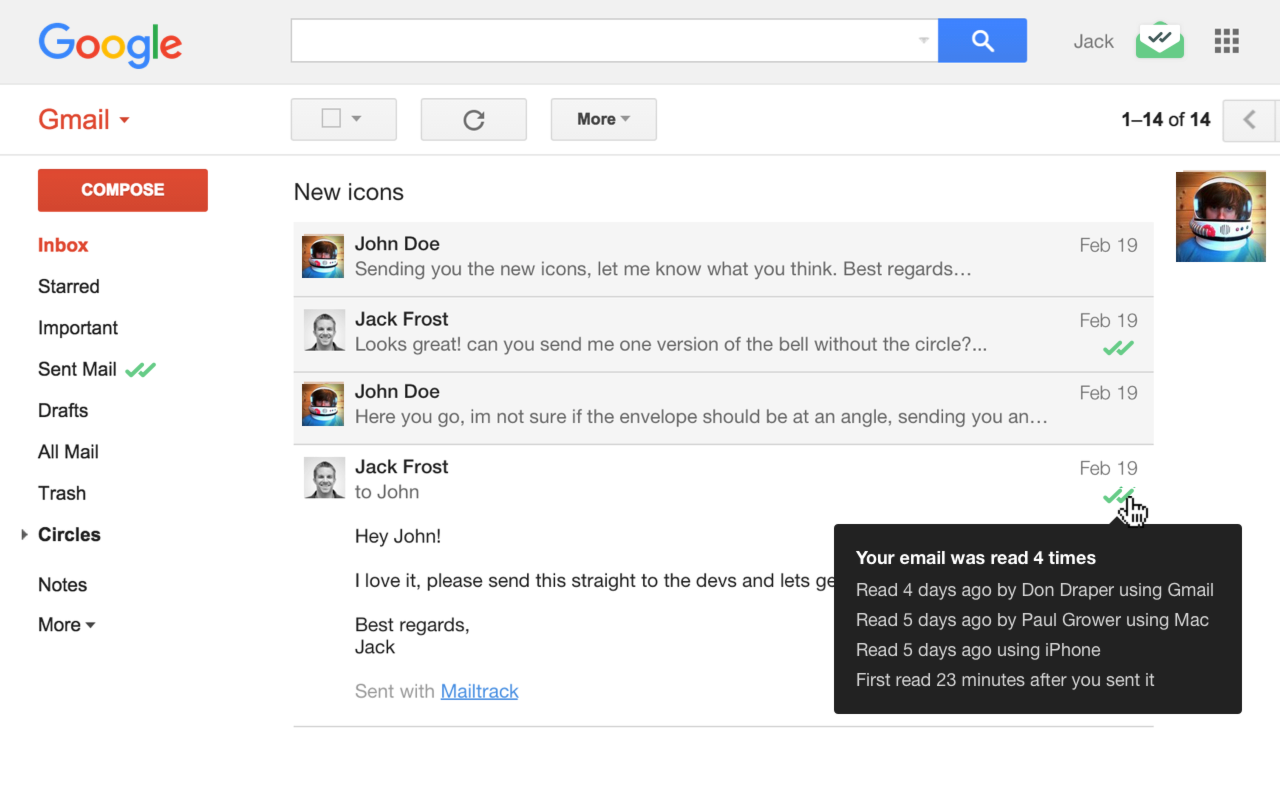 Additional features
Mailtrack offers extra features such as CRM integration, reminders, and monitor reply. You also get daily reports on your sent messages stats plus real-time notifications when your email has been opened.
Pricing plans
Mailtrack offers free and pro plans. Its pro plan comes in monthly, quarterly, and yearly payment packages.
What users think
Pros
The tool is built with easy set up and integration with Gmail. Clear, simple visibility within your inbox.
Cons
It has minimal functions and features.
Gmelius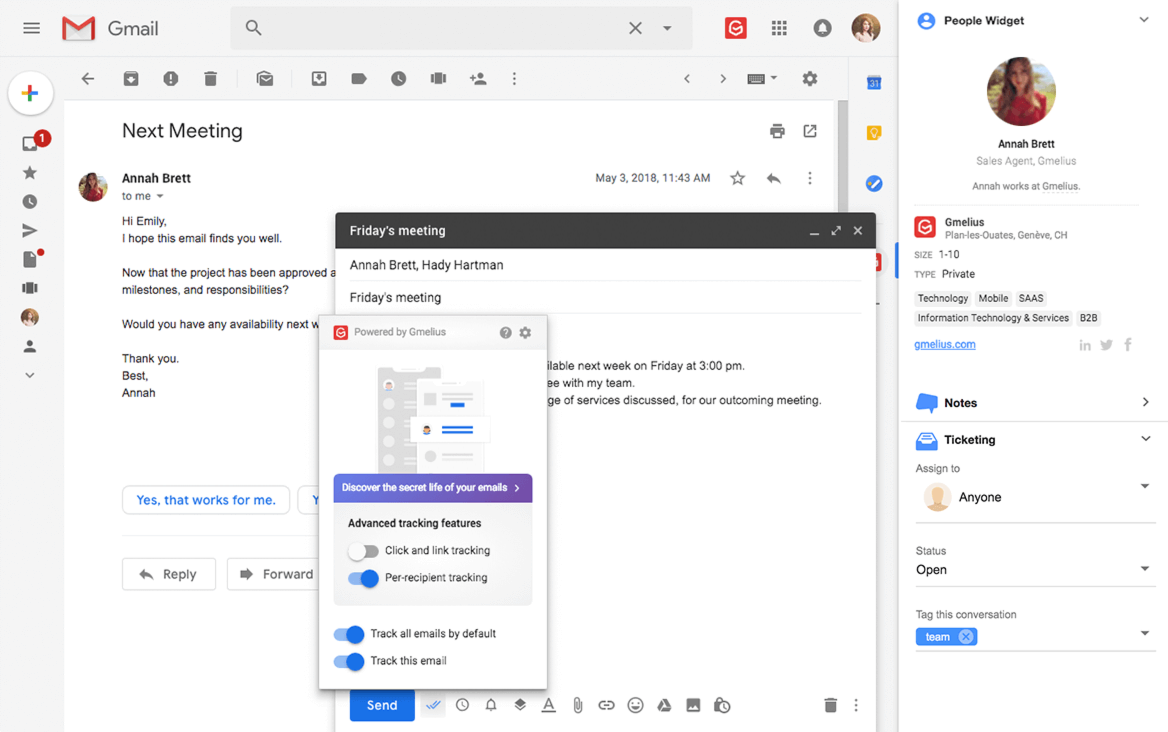 Additional features
Added to its email tracking capability, Gmelius also does sequences, email scheduling, email templates, auto follow-ups, CRM integration, and kanban boards.
Pricing plans
Gmelius offers three kinds of paid plans, depending on your needs: Sales at $9 a month, Team at $14 a month, and CRM at $20 a month.
What users think
Pros
Gmelius is able to pack itself with great features while keeping the app easy to use. Users also commend its reliable customer support.
Cons
Customers noted missing CRM functions such as contact management and aggregated notifications.
ReplyUp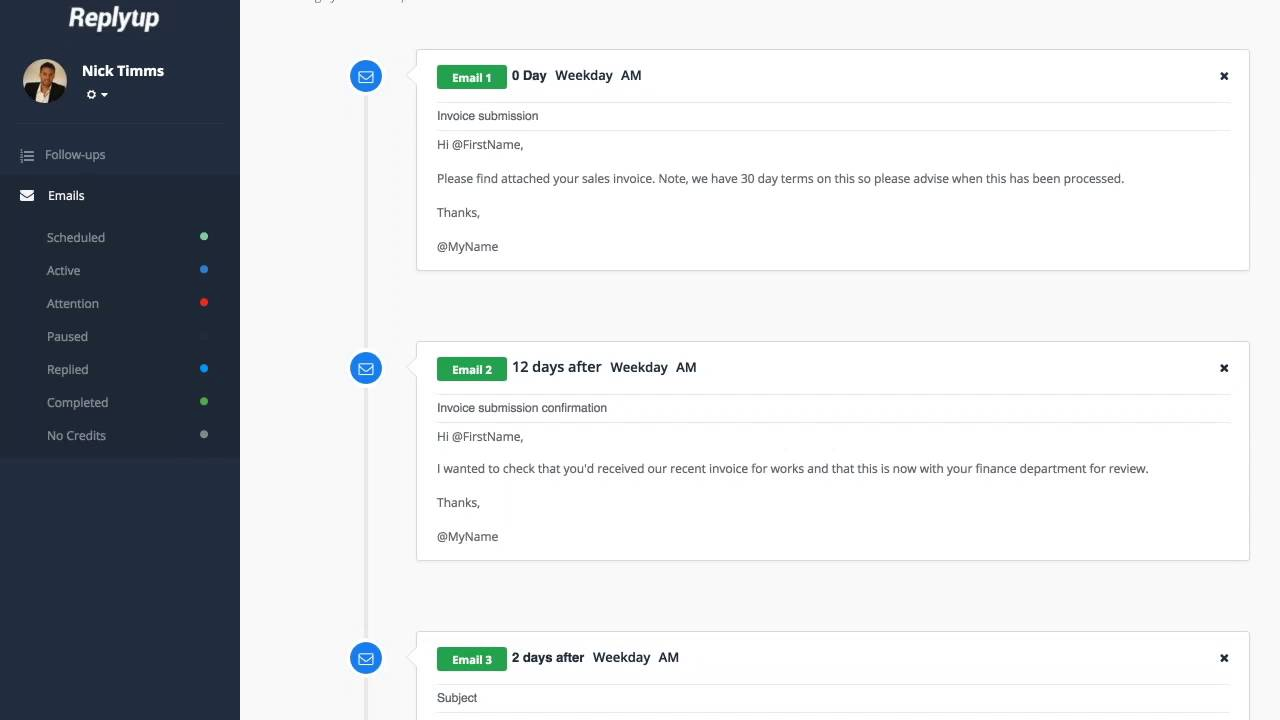 Additional features
ReplyUp allows users to make most of their Gmail with email templates, scheduling, and follow-ups on top of its tracking feature.
Pricing plans
ReplyUp has a free version and an unlimited version for $18 per user a month if billed monthly, or $12 per user a month for annual billing.
What users think
Pros
Users appreciate how easy it is to set up and use. It also integrates seamlessly with Gmail.
Cons
It has limited features compared to similar products. Some have also experienced unresponsive customer support.
SalesLoft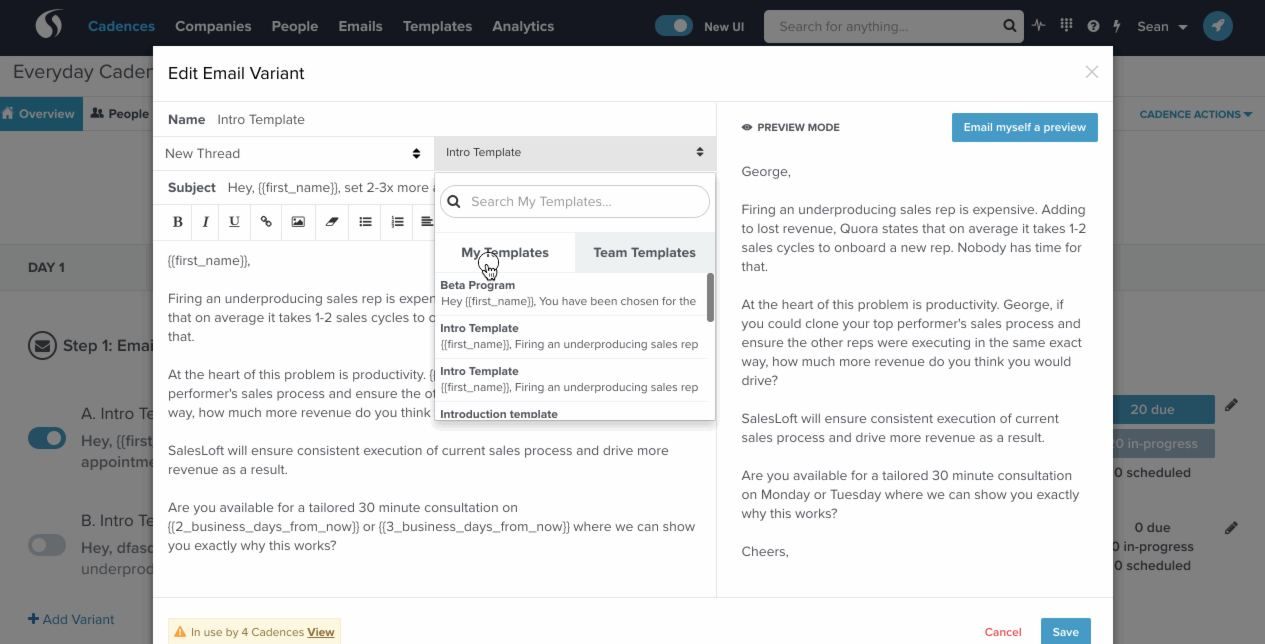 Additional features
SalesLoft prides itself with an array of extra capabilities like email scheduling, templates, automated emails, open rate analytics, plus a click-to-call feature.
Pricing plans
SalesLoft has a quote-based pricing plan, which is according to the needs and requirements of users.
What users think
Pros
A well-built platform stuffed with additional CRM and project management features.
Cons
Not as intuitive and user-friendly, especially for users who are new to sales enablement platforms.
Outreach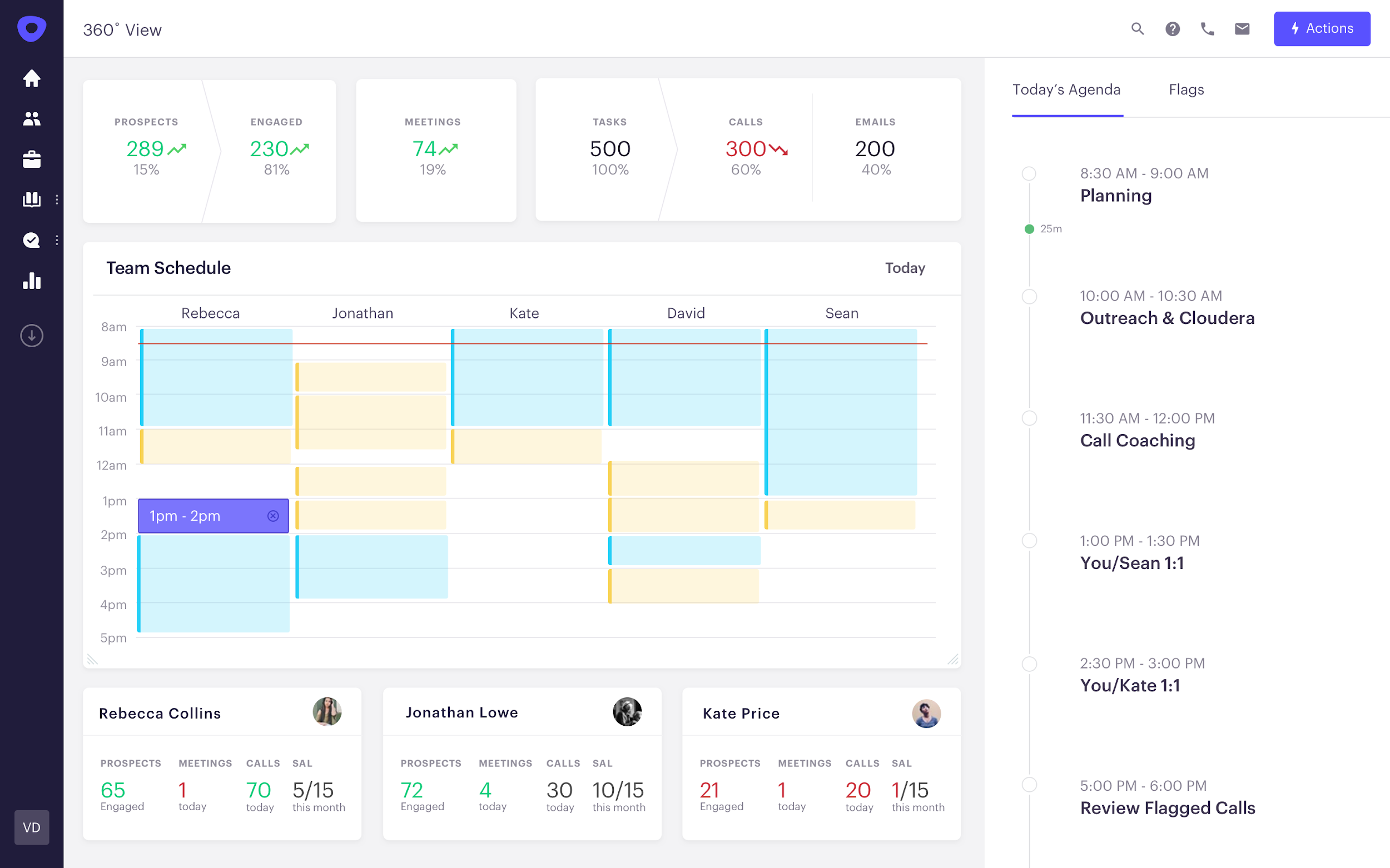 Additional features
Outreach includes email templates, snippets, CRM integration, tailored messages, sequences, and intelligent automation.
Pricing plans
Outreach only offers custom packages priced on a by-quotation basis.
What users think
Pros
A value adding platform for outbound focused sales teams, enhanced by great UX and functionality.
Cons
Users have reported lapses in its integration with Gmail and Salesforce, as well as poor experiences with customer support.
Mailshake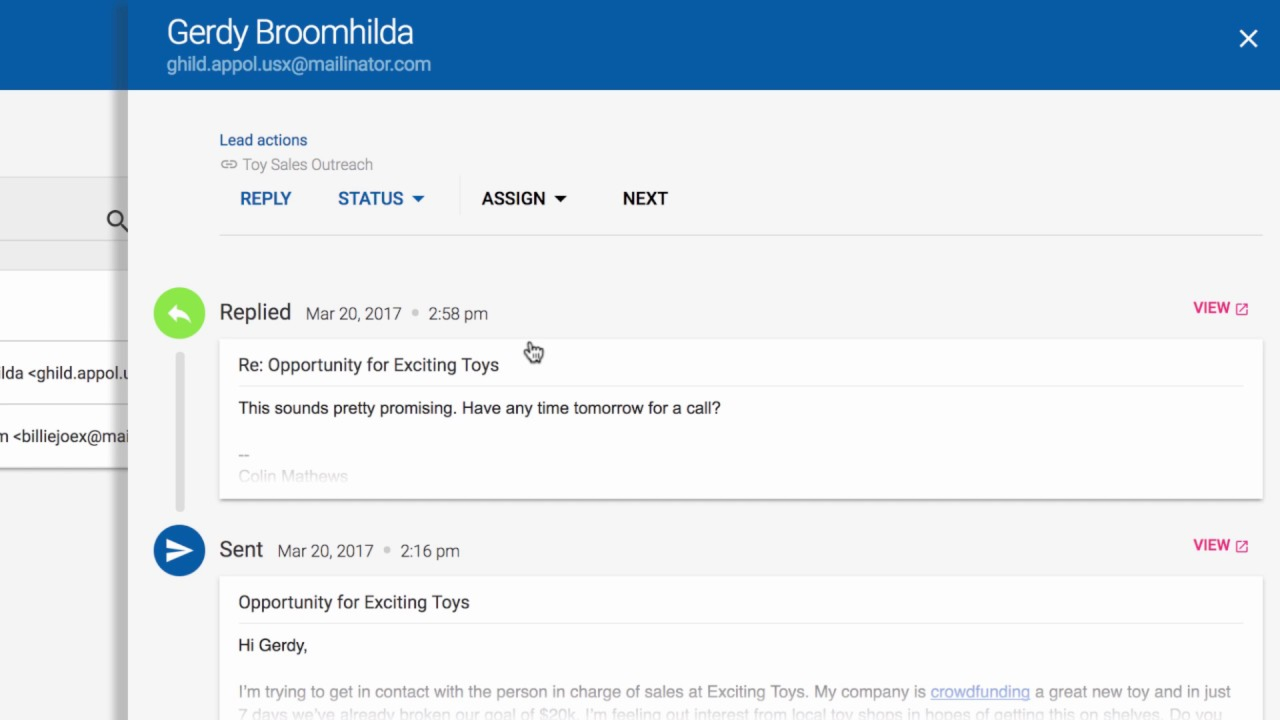 Additional features
Mailshake enables teams with added features such as email templates, automated follow-ups, API, conversion tracking, and CRM integration.
Pricing plans
The platform can be availed in two pricing plans: Basic at $29 per user per month and Pro at $49 per user per month.
What users think
Pros
Easy to use, reliable and powerful.
Cons
Platform does not include robust reporting, advanced email scheduling, and tracking the number of times the recipient has opened the email.
Wrap up
There are numerous email trackers out there packed with great features and powerful functionality. Vocus.io stands out with its minimalist yet solid interface that gives customers more bang for their buck. It has everything you need for shaving hours spent on managing your inbox. You get a robust email tracking tool with reminders, templates, tracking, and automated follow-ups at a price lower than industry average.