8 Best Meeting Scheduler as of 2023 (Ranked & Reviewed)
We love schedulers, so we want to know everything about them. We've done our research and compiled our favorite meeting scheduler apps in the market. We will try to keep this list fresh!

These meeting schedulers differ in multiple ways, including the set of features they provide, integrations they offer (Google calendar for example, or Outlook calendar), and their prices. We also looked up the reviews of some of them to learn about the highlights and the lowlights.
So here we go!
1. Sprintful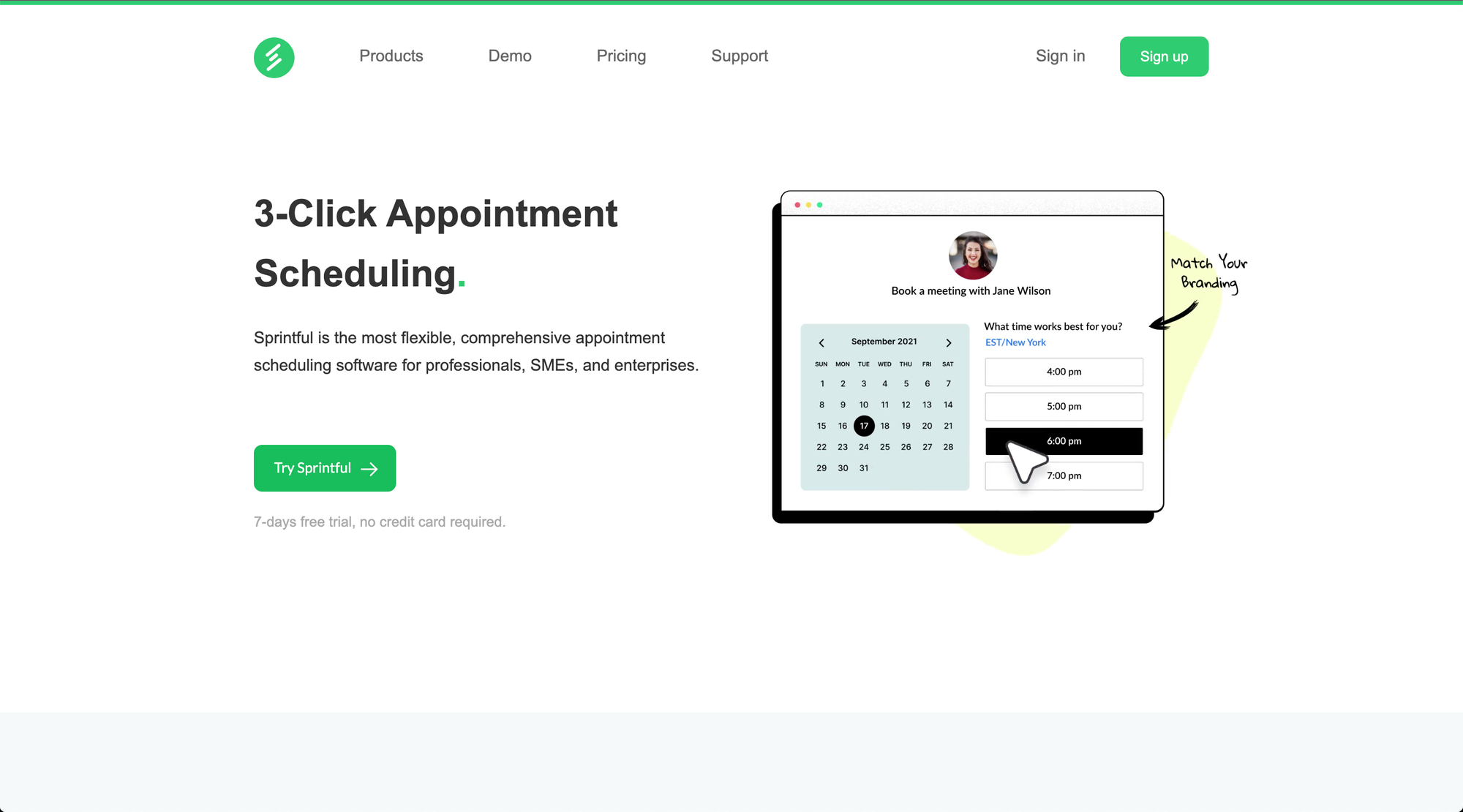 Sprintful is a comprehensive online meeting scheduler for professionals and businesses. It integrates with Google Calendar, Outlook Calendar, Zoom, Microsoft Teams, and numerous other services. Sprintful is great if you 1) care about branding, or 2) working with a large team, or 3) have a complex use case. You can customize Sprintful to send emails from your own domain name (i.e. john@yourcompany.com), host a booking page under your own domain name, send reminder SMS from your caller ID, and completely change the look and feel of the booking page. It also has much to offer for enterprise customers, including audit trails and SSO, among other features.
Pros:
Smooth, modern user interface with abundant customizability
Great for 1-on-1 meetings, group meetings, or round-robin with teams
Deep branding configurations (email domains, SMS sender-id, etc)
Deep feature set for enterprise customers (authentication, audit trail, impersonation, etc)
Cons:
Deep customizability might be a challenge for non-technical users
2. Calendly Meetings Scheduler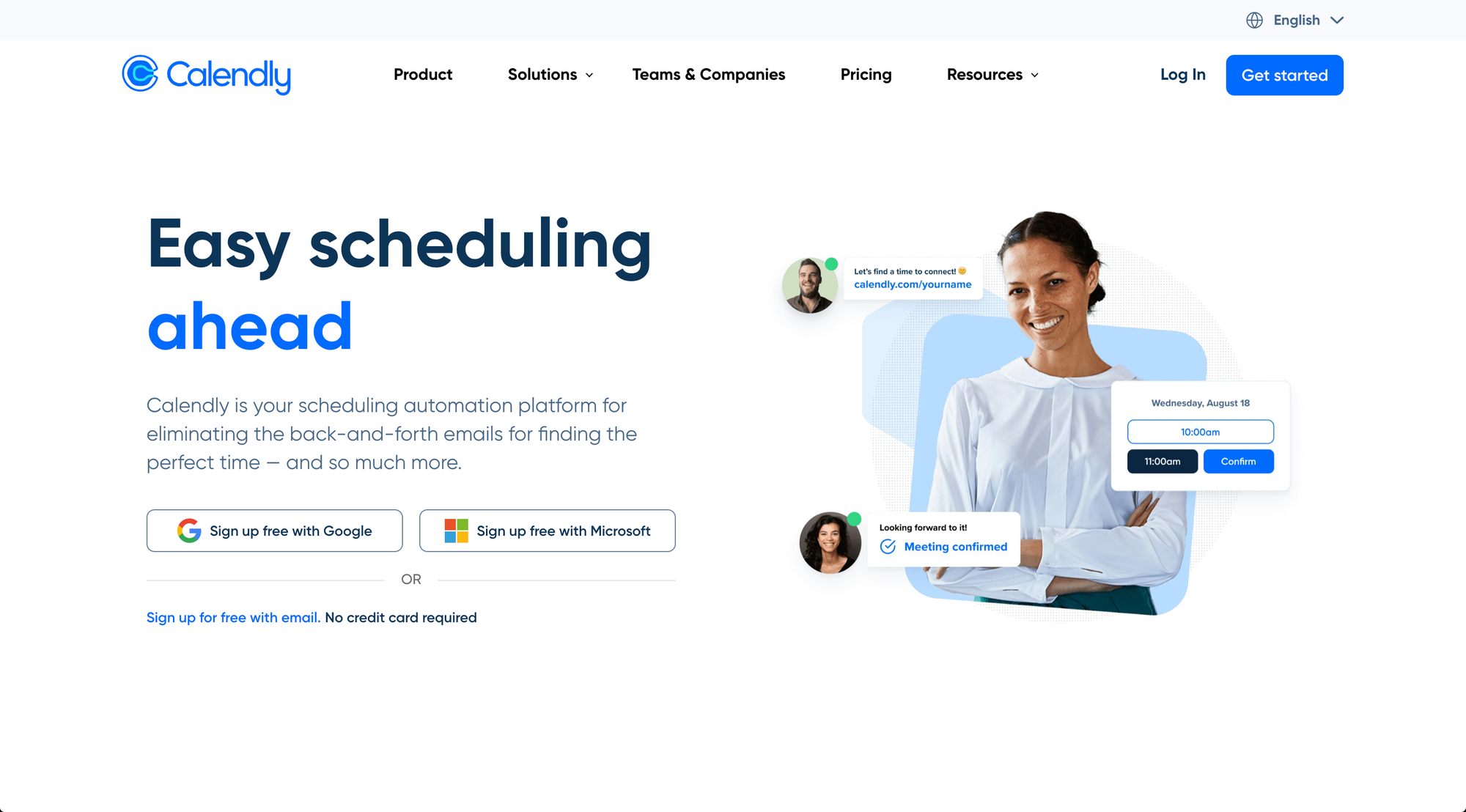 Calendly is the OG of this space. They did appointment scheduling before it was cool. Calendly is a user-friendly scheduling tool designed to take the hassle out of coordinating meetings, appointments, and events by syncing with your existing calendar and allowing others to select a mutually agreeable time without the need for endless back-and-forth messages. If you're interested, we've also compiled Calendly Alternatives here.
Pros:
Intuitive interface makes scheduling a breeze
Automatically handles time-zone differences
Seamless integration with popular calendar apps
Cons:
Free version is so basic, it is barely useful in a professional context.
No customizability whatsoever other than uploading your logo or picture. This makes it a no-go in professional context where branding is important.
Paid version offers limited functionality, you'd need to go for higher plans if you're looking for features such as round-robin or others.
3. HubSpot Sales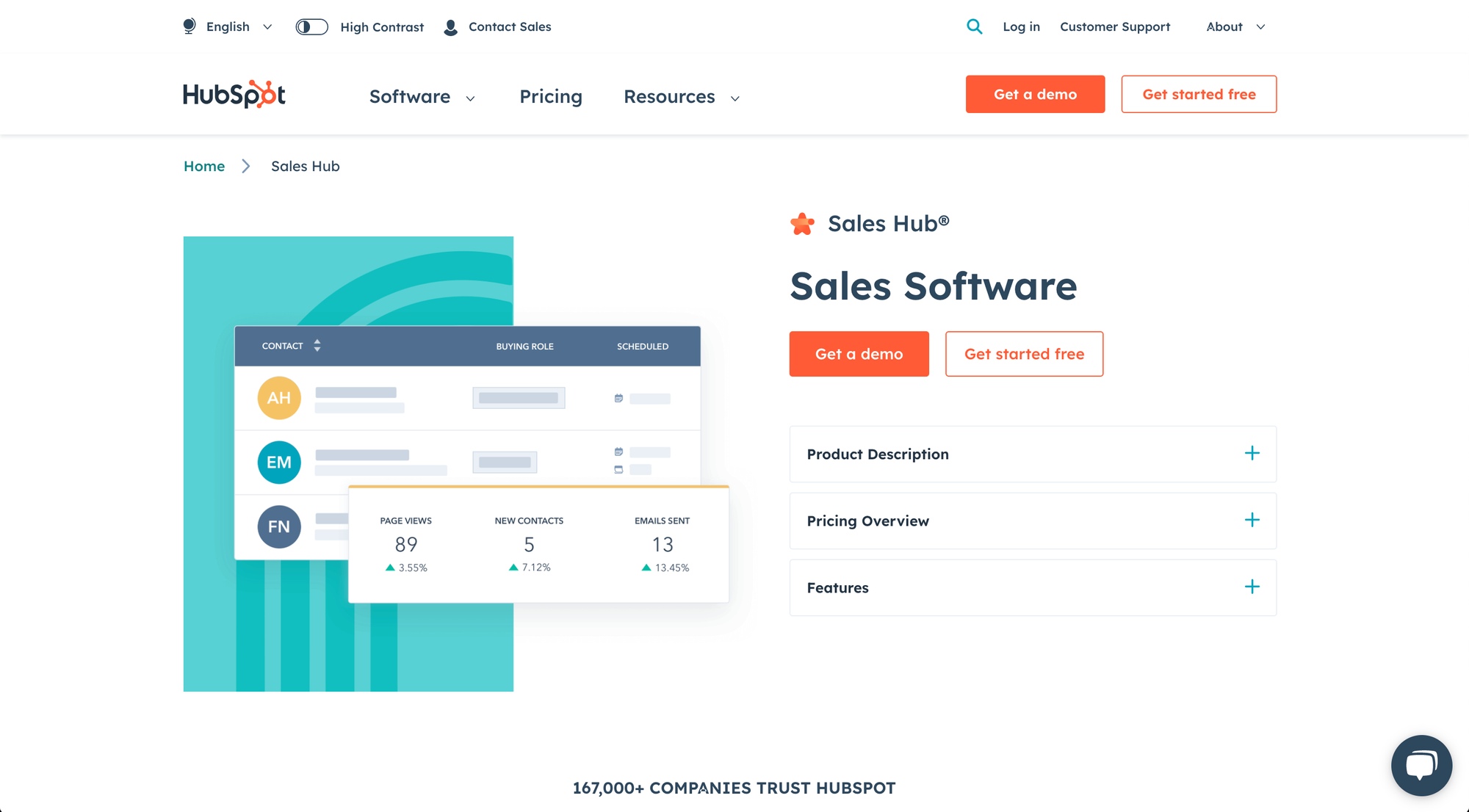 HubSpot Sales is part of HubSpot software suite, which empowers businesses to streamline their sales process, track customer interactions, and optimize their sales pipeline for maximum efficiency and revenue generation. It connects with Google Calendar, Outlook Calendar, and all the usual suspects.  HubSpot software suite is a solid brand with many integrations, so you will be in good company. You can schedule meetings one-on-one, group sessions, and team meetings.
Pros:
Robust sales tools in one centralized platform
Seamless integration with HubSpot CRM
Customizable reporting and analytics
Cons:
Comes with a package of other features like email tracking
Higher-tier plans can be prohibitively expensive
Limited / no customization options in free version
4. Acuity Scheduling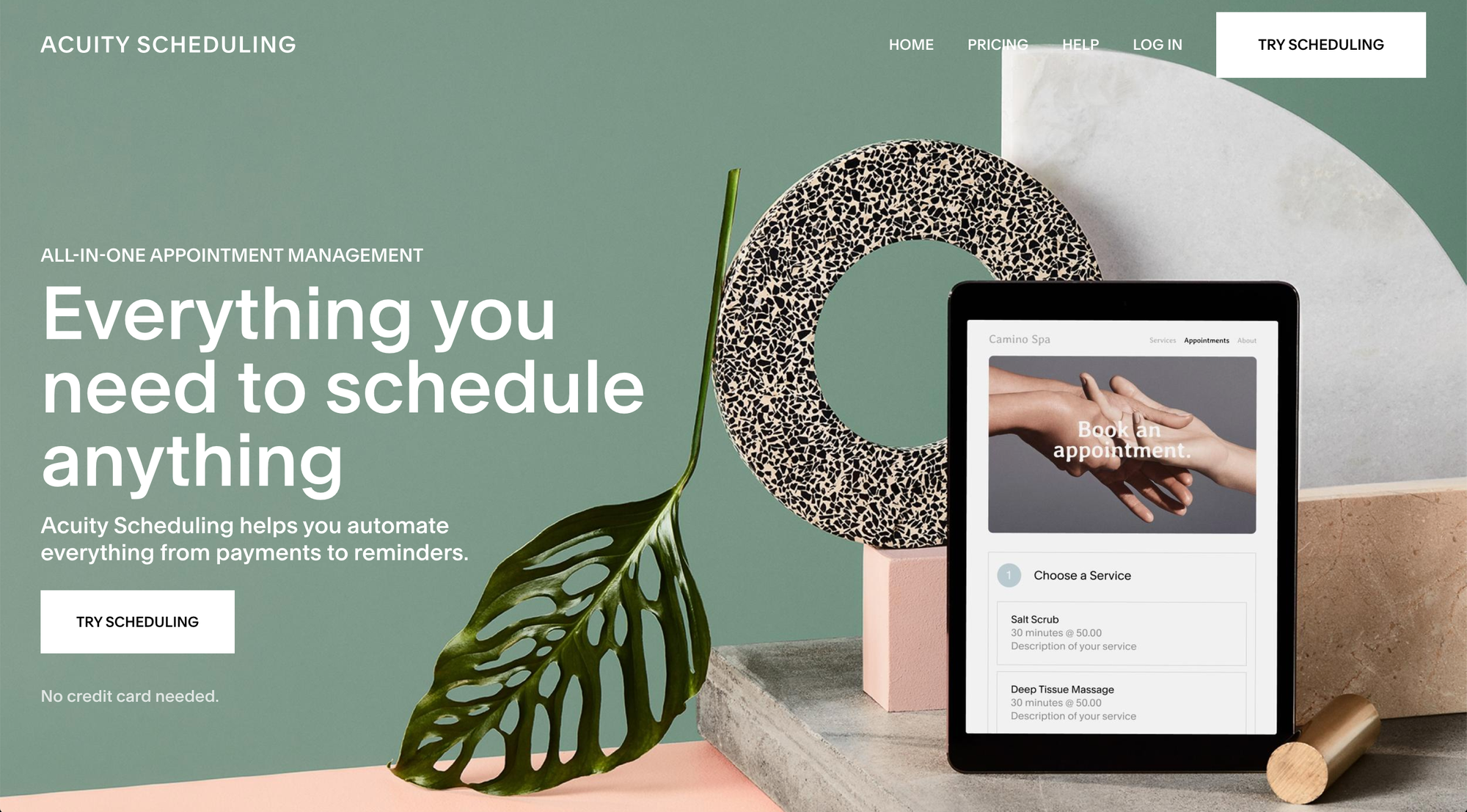 Acuity Scheduling is an intuitive online appointment scheduling tool that helps businesses and professionals effortlessly manage bookings, client interactions, and appointment reminders to streamline their day-to-day operations. It's really designed for small retail businesses, like barbershops and whatnot. It was acquired in 2019 by Square. Since then, recent reviews seem to be mainly concentrated around limited customer service.
Pros:
Easy-to-use interface for clients and staff
Customizable appointment types and availability
Automated email and SMS reminders
Cons:
No free plan available, only a trial
Designed for a single calendar schedule (e.g. single store), although a store can have multiple agents
Limited integrations and configurations compared to the other players
5. YouCanBook.Me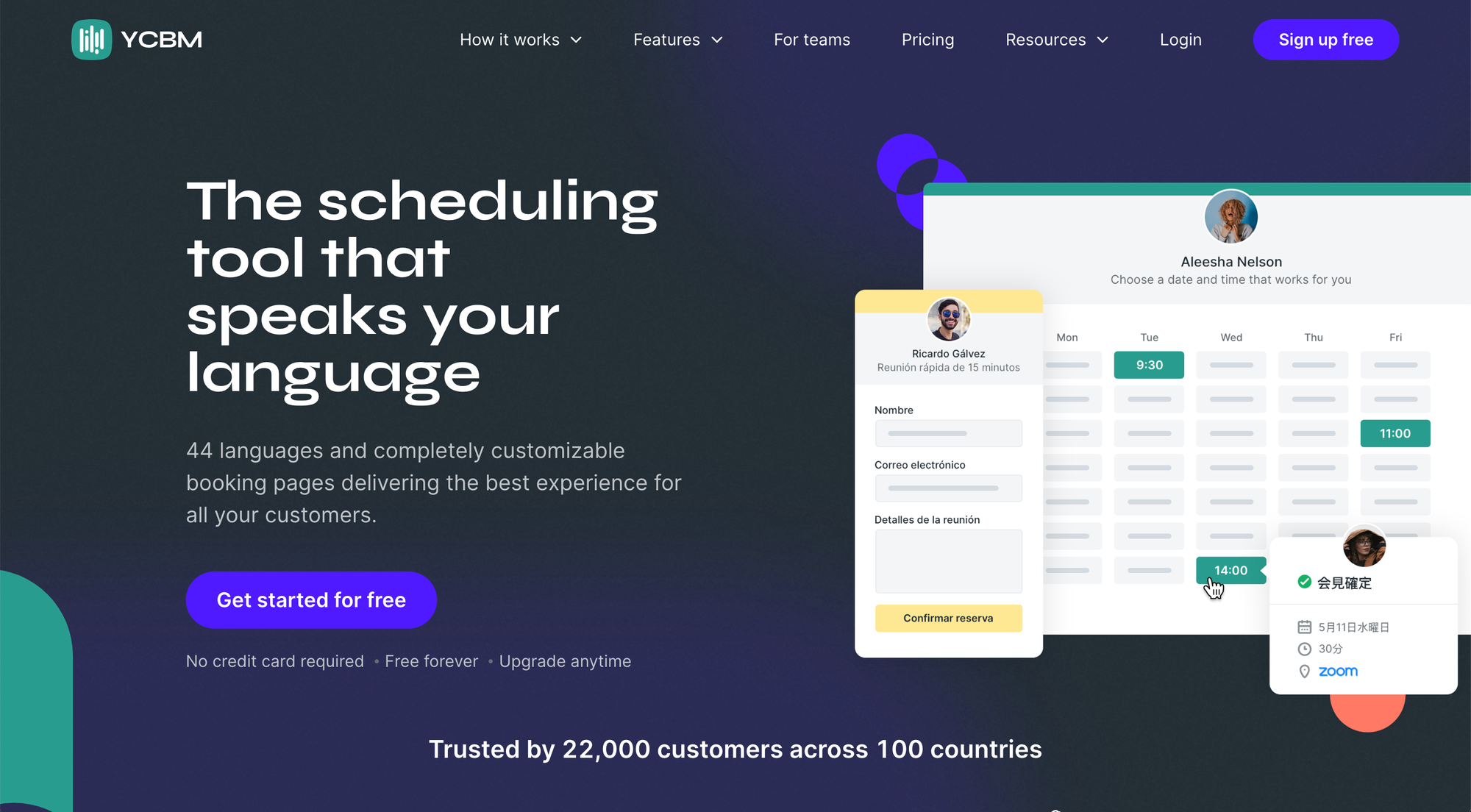 YouCanBook.Me (a.k.a. YCBM) is a versatile online scheduling tool designed to simplify appointment booking by allowing clients to seamlessly reserve time slots, reducing back-and-forth communication and streamlining the booking process. It supports one-on-one meetings, group meetings, and teams. Integrates with all the common services (Google Calendar, Outlook Calendar, Zoom, MS Teams). It's been around for a while, and it shows (i.e. the interface is a bit antiquated).
Pros:
Syncs with multiple calendar platforms (Google, Outlook,
Customizable booking forms and notifications
Flexible scheduling with buffer times
Cons:
Interface may feel outdated compared to alternatives
The booking page is simply not pretty
Advanced integrations exclusive to paid plans
6. ScheduleOnce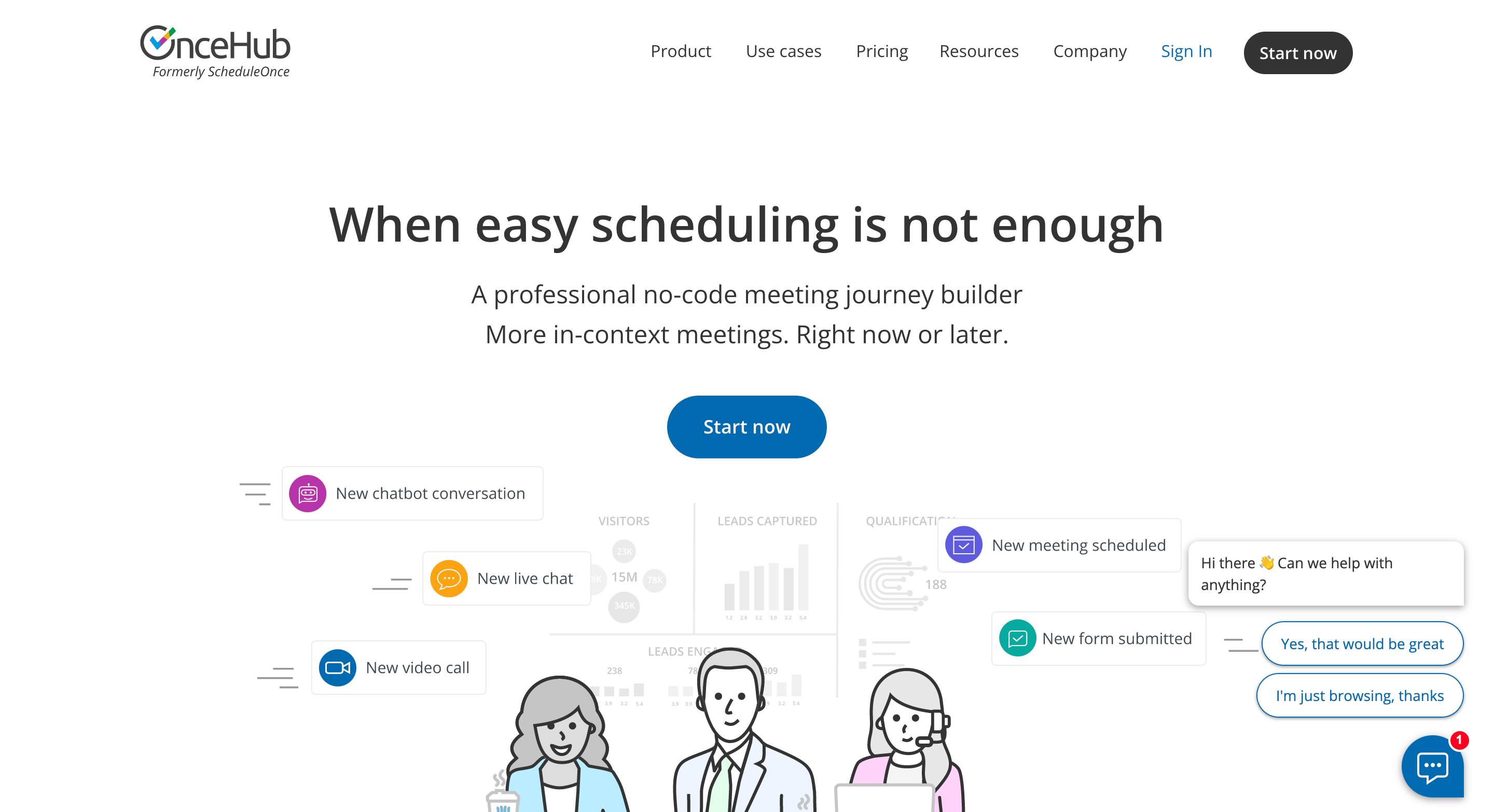 ScheduleOnce is a powerful scheduling solution that streamlines appointment booking and event coordination by offering a unified platform for individuals and teams to manage their calendars, time zones, and availability. It's a solid choice for many use cases and it's substantially more versatile compared to many on this list. However, one thing you will instantly notice, is that all these features come at the cost of a difficult user interface. Plus, the look & feel is a bit... Windows 98.
Pros:
Great for teams and team collaboration
Robust integration with popular calendar apps
Good customer service and support channels
Cons:
Interface not as intuitive as competitors (at all)
Limited customization in lower-tier plans
Feels outdated and clunky
7. Mindbody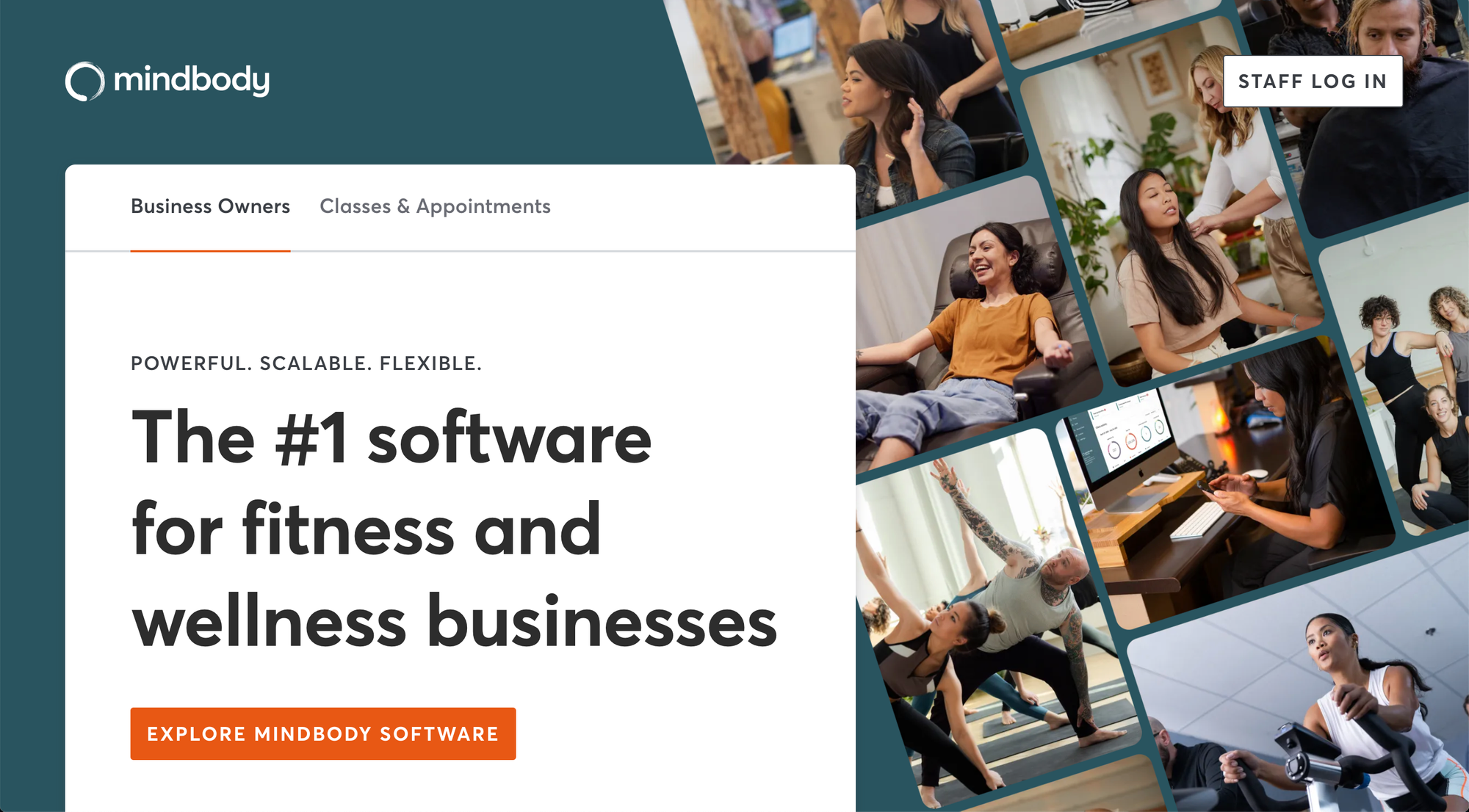 Mindbody is an all-in-one business management software specifically tailored to the wellness industry, providing tools to manage appointments, memberships, marketing, and reporting for fitness studios, spas, and salons. This one is somewhat in a different league, in the sense that it does well more than simple meeting scheduling. If you're not in the wellness industry, this might not be for you.
Pros:
Industry-specific features for wellness businesses
Comprehensive client management and communication tools
Mobile app for clients and staff
Cons:
Steeper learning curve for newcomers
Pricier compared to general-purpose alternatives
Some users report occasional software glitches
8. ChiliPiper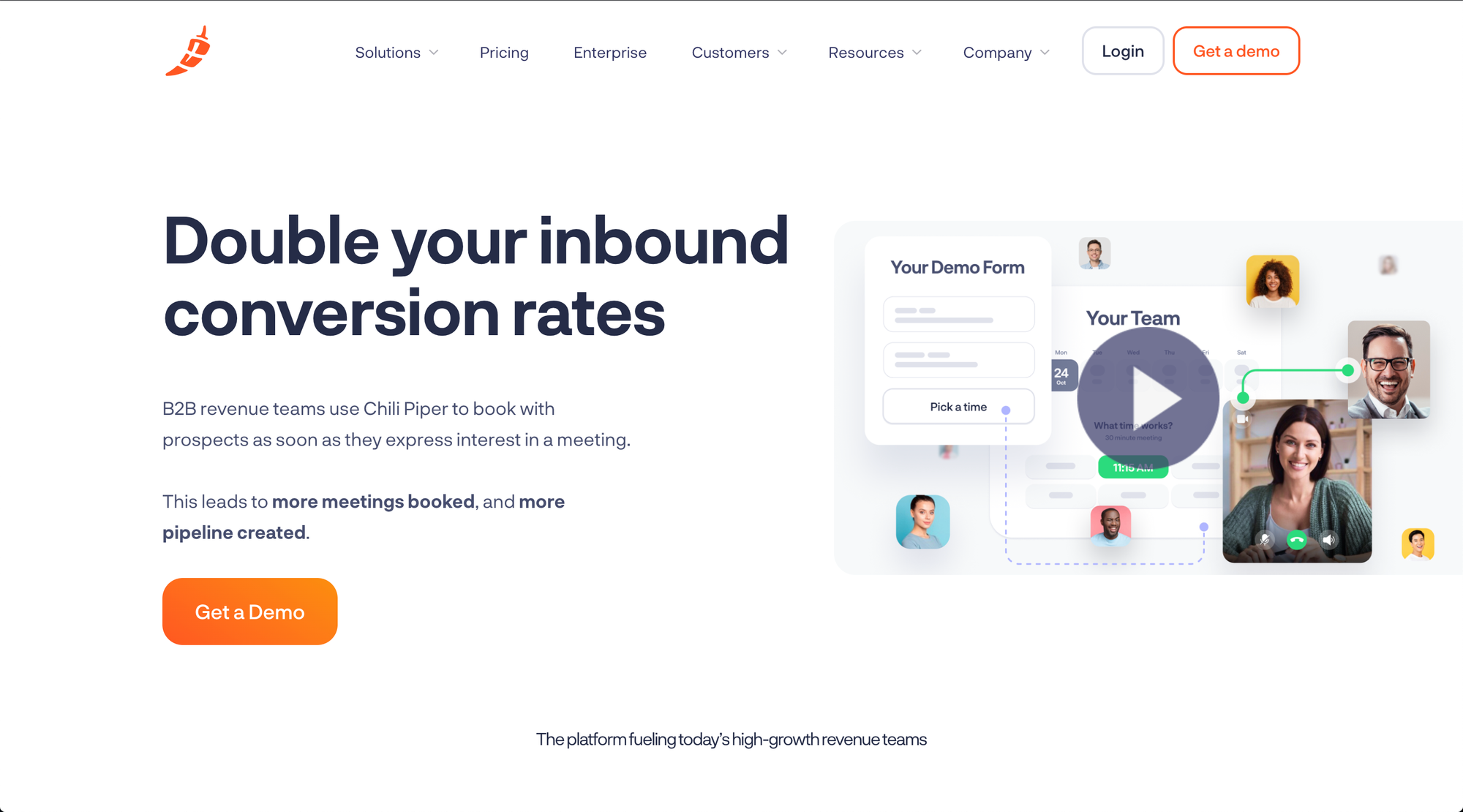 ChiliPiper is a sophisticated tool for scheduling meetings aimed at accelerating sales processes, allowing sales teams to efficiently schedule meetings, manage leads, and distribute tasks through round-robin and integrations with Google Calendar, Microsoft Teams, and other systems.
Pros:
Powerful automation features for sales teams
Integrates with popular CRM systems
Customizable rules for lead distribution
Cons:
Targeted primarily at sales organizations - large, complex orgs
Lacks a free plan, only offers a demo
Can be overwhelming for non-sales users
That's all, folks!
There's plenty more options out there, but the above does cover the highlights of meeting schedulers, and our favorite meeting scheduling tool being Sprintful. If Google Calendar and Outlook Calendar integrations are important, then Sprintful, Calendly, YCBM, and ScheduleOnce are good options. If running a wellness spa or sales team, then Mindbody and Chilipiper are good to evaluate.
---
Frequently Answered Questions
What is meeting scheduling?
Meeting scheduling is the modern-day art of wrangling calendars, time zones, and the ever-elusive "free time" to create harmonious rendezvous between two or more busy humans. This magical process saves participants from the fiery pits of endless back-and-forth emails, texts, or carrier pigeons, all in the quest to find the perfect moment for a productive tête-à-tête. By wielding the mighty power of digital scheduling tools, platforms, or ancient scrolls (okay, maybe not scrolls), meeting scheduling weaves together calendars, automated reminders, and customizable booking enchantments to summon a stress-free meeting experience, earning its rightful place among the grand pantheon of time-saving miracles.
How to choose the best meeting scheduling tool?
It really depends on your use case. These tools differ in many ways:
Flexibility: can I allow booking time 9am-5pm, and block 3-4 on Wednesdays, and only allow meetings that are 2 days in advance but not more than a week, and no back-to-back-gapless meetings? Time scheduling is tough and there are 100 rules you can add. Not all of them support these customizations the same/

Integrations: do you need Google Calendar or Outlook Calendar or both? Do you need to connect one, two, or ten? What about connecting these meetings to your internal systems?

Team & Collaboration: is this being used by a single user or a large organization? Do you need audit trails and SSO, or just a free account would suffice?

Pricing: how much would it cost per user per month, and are there any discounts for large volume purchase?

Does Google have a meeting scheduling tool?
Indeed, Google has its very own meeting scheduling superhero, Google Calendar, swooping in to save users from the chaos of disorganized appointments and events. This powerful tool integrates with Gmail, enabling the creation of meeting invitations from mere emails in a flash. It also teams up with Google Meet for video conferencing, making sure your virtual gatherings go off without a hitch. But wait, there's more! Google Calendar's "Find a Time" feature is like a friendly detective, tirelessly searching for that sweet spot where everyone's availability aligns, sparing you from the notorious "When can you meet?" back-and-forth. With Google Calendar, meeting scheduling can finally become a walk in the (digital) park.